About Rock-Vern Electric Inc.
Electrical Contractors in Tolland, CT
In 1959, Umberto Palumbo and his wife, Irene founded Rock-Vern Electric Inc. out of their home in beautiful Tolland, Connecticut.
In 1967 the building that Rock-Vern Electric Inc. now occupies was built. The building, built on an old apple orchard, is where were we are still located today.
Umberto Palumbo worked at Rock-Vern Electric up until the day of his death on November 2, 2010. Umberto was a very outgoing and intelligent man who built a business from the ground up. Umberto's persistence and passion for the electrical industry, his town and his business have produced a successful family run company that has been operating now for over 55 years. His persistence and passion is the cornerstone on which Rock-Vern Electric Inc. still operates.
Today, the company is still owned by the Palumbo family. The daily operations are managed by Irene Palumbo and her son, Stephen. Stephen's sons, Gino and Ben Palumbo, also work for the family business. For 3 generations, the Palumbo family has taken great pride and honor in the work they performed, serving Tolland and all of Connecticut's electrical needs.
Rock-Vern Electric Inc is an electrician company dedicated to providing quality electrical services. We specialize in home automation, Generac generators and surveillance installation.
We immensely enjoy meeting and getting to know new customers. We pride ourselves on offering fair pricing and an honest service at an affordable price. We look forward to meeting you!
Call today for a FREE estimate: (860) 875-5905
What can you expect from our Electrical Contractors?
Highly experienced electrical technicians.
Outstanding customer experience.
Over 50 years of experience
FREE evaluation and quotes..
Emergency Electricians
Need of an electrician fast? Our trained and experienced electricians are on hand 24 hours a day to fix your emergency electrical problems.
Electrical problems can occur when you least expect it. At Rock-Vern Electric Inc we offer a prompt, reliable solution for when things go wrong.
Our emergency electricians will accurately diagnose your fault to identify and rectify your problem. We always put our customers first, our number one priority is your satisfaction, which is why we take the time to ensure every job is fixed right, the first time around!
Need an Emergency Electrician? Call (860) 875-5905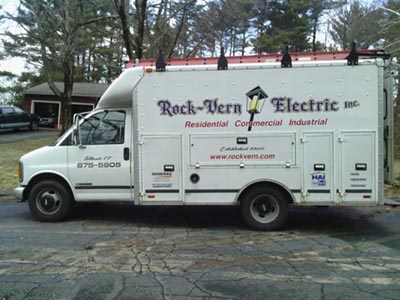 Common Electrical Problems
Damaged cables
Water leaking into electrics
Exposed wires
RCD tripping
Sockets not working
Lights not turning on or keep blowing
Circuit breaker tripping
These are just some of the common electrical faults that our customers experience. Whatever your electrical problem, don't delay in calling our emergency electricians! We are on hand 24 hours a day, 7 days a week